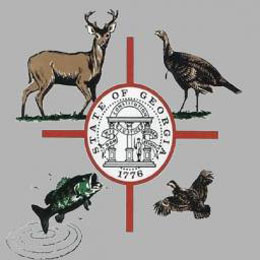 Special Permit Applications
DNR Law Enforcement Division - Special Permit Unit
2070 US Hwy 278
Social Circle, GA  30025
770-918-6408
UPDATES: DECEMBER 2022
New Wild Animal Regulations
For Information click link > https://georgiawildlife.com/wild-animal-rules
With Georgia wildlife facing increasing threats from non-native species, DNR is adding limits on what animals can be bought, sold or kept in the state.
Owners of these newly listed "wild animal" species, which vary from Argentine black and white tegus to giant African land snails, have a year to meet most of the requirements. This allows time for pet owners to register and tag six of the reptile species added, businesses to sell animals acquired before the changes and people ineligible for a permit or license to find their animals an appropriate home.
However, importing and breeding species added to the state's wild animal list are prohibited starting Dec. 4, when the rules approved by the state Board of Natural Resources kick in.
Listed species are legally referred to as wild animals. The changes to the list, the first since 1994, include animals that pose a threat to wildlife or people. The revisions also update scientific names for some species.
Biologists decided which animals to add by reviewing non-native species documented in Georgia and nearby states and scientific publications assessing the ecological risks and any inherent danger to humans.
LEARN MORE
---
Please note that Applications are for first time applicants only.
Renewal Applications are for existing applicants, or expired permit holders.  There are certain questions and forms required for existing applicants that must be completed before permit is processed.
All permits expire on March 31st. All permit renewals must be submitted by March 1st for the upcoming 12-month period from April to March. Renewals submitted after March 1st may take 4-6 weeks to process, which may cause you or your business to be non-compliant for several weeks.
---
A Guide to Legal Pets
Most native wildlife and many exotic animals may not legally be kept as pets in Georgia. Click here for a guide to legal pets in Georgia. 
---
Permit Applications & Permit Renewal Applications
Aquaculture
Coastal Long-Term & Short-Term Anchoring
Georgia is home to more than 105 miles of coastal shoreline with outstanding opportunities for boating. In order to keep our coast healthy and vibrant, the Georgia Department of Natural Resources has established regulations for overnight and long-term anchoring.
Click here for information on the Georgia Estuarine (Marine) Anchoring Law
---
Commercial Licenses
---
**Area maps are required with ALL Renewal Applications each year.
Dog Deer Hunting Permits & Permit Application
---
Falconry
Peregrine falcons are considered the world's fastest bird, with dives clocked at 200 mph plus.  Falconers prize peregrines for their spectacular hunting skills.  Click here for more information on falconry, including a guide and permit application, and information on the trapping of falcons in the eastern U.S.
---
Nuisance Wildlife: Prevention & Management
You must score a minimum of 80 points on a Nuisance Control exam consisting of 50 questions. The exam may be taken at the DNR Law Enforcement Division Headquarters - Special Permit Unit in Social Circle with a previous appointment. Please call 770-918-6408.
If you live some distance from Social Circle, it is possible to arrange to take the exam at one of our Region Game Management offices - see link for locations - https://georgiawildlife.com/about/contact
This page on the Wildlife Resources Division website provides information relative to managing nuisance wildlife, including lists of nuisance trappers, how to become a trapper, preventing wildlife damage, trapping rules and regulations and much more.
Individual Commercial Nuisance Control Permit
---
Government Agencies Only
Government Agency Wildlife Control Permit
---
Scientific Collecting Permit
A permit used for research projects through an educational institution or environmental consulting firm. (For all plant and insect requests Please contact the Wildlife Conservation Section at 706-557-3213 for information or permit )
---
Taylors Law
---
Wild Animal / Wildlife Exhibition Information
Wild Animal License - to breed or exhibit non-native species; please contact Special Permit Unit at 770-918-6408
Wildlife Exhibition License - to exhibit wildlife for education purposes; please contact Special Permit Unit at 770-918-6408
Wildlife Film Production Permit - to exhibit wildlife in film or TV production; please call the Special Permit Unit at 770-918-6408
Click here for information on exotic species that may not be held as pets in Georgia.
---
Becoming a Wildlife Rehabilitator  (click here)
---
What if I find injured or sick wildlife that needs care?
Contact the Wildlife Rehabilitator from the list, who is permitted for the animal, and is nearest to the location of the wildlife. 
---