The Aviation Unit has had another successful mishap-free year, flying over 958 hours supporting state and federal agencies, with 293 of these hours in direct support of the DNR Law Enforcement Division. The year began with an Ocmulgee River rescue. Captain Steven Turner and Crew Chief John Peberdy conducted a long line short haul of two boaters that were stranded after a flash flood.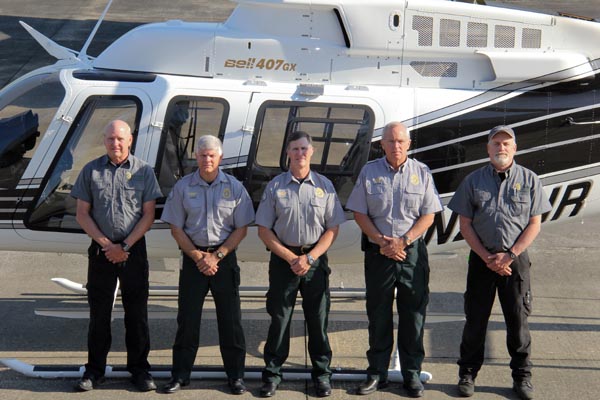 From early fall through early spring the Aviation Unit assisted the Law Enforcement Division in the execution of their primary mission of protecting the state waterways and woodland areas. Flight support was provided for night alligator hunts, night deer hunts, and illegal shrimping along the coast. County surveys were also conducted looking for baited fields, baited duck ponds and a variety of other violations.
The Aviation Unit supported the Wildlife Resource Division, flying survey flights for Bald Eagles, kestrel, and water fowl. Captain Ed Watkins flew these same surveys along the Georgia coast in addition to manatee and diseased dolphin surveys.
Captain Watkins also assisted State and Federal agencies while serving warrants, assisted in investigations for the Department of Justice and EPA, and the FAA in the location and mapping of downed aircraft debris fields. Major Watson assisted the FBI in a dog fighting raid in Merriweather County.
Major Watson and Captain Turner supported the Georgia Forestry Commission for fire suppression on two separate fires in Dade County, dropping over 35 thousand gallons of water on designated hot spots.
The Aviation Unit flew 34 hour during 11 prescribed burns on State WMA's during the months of February through April. The Unit participates in the 2014 Hurricane exercise in Savannah and coordinated with Captain Wade Law to provide initial long line rescue training for the new Training Academy Recruits. The Aviation Unit also teamed up with Rangers to fly night patrols over many of the state's lakes and waterways in search of boating violations.
The year culminated with a long line short haul rescue in Tallulah Gorge flown by Captain Turner and one of the newly designated aerial observers, RFC Mitchel Crump. This rescue demonstrated and proved the success of the aerial observer program. The quick response from a DNR ranger from the same region as an incident could affect the outcome.