The Interstate Wildlife Violator Compact establishes a process whereby wildlife law violations by a non-resident from a member state is handled as if the person were a resident, in that personal recognizance is permitted instead of arrest, booking, and bonding.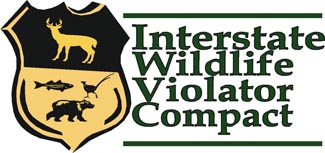 ​​​
This process is a convenience for hunters, fishermen, and trappers of member states, and also increases efficiency of Georgia Conservation Rangers by allowing more time for enforcement duties rather than violator processing procedures required for arrest, booking, and bonding of non-residents.
The Wildlife Violator Compact also includes a reciprocal recognition of license privilege or right suspension by member states, thus any person whose license privileges or rights are suspended in a member state would also be suspended in Georgia.
 Wildlife law violators will be held more responsible due to the fact that their illegal activities in one state can affect their privileges or rights in all participating states.  This cooperative interstate effort will enhance the Divisions ability to protect and manage our wildlife resources.
Member States
Alabama, Alaska, Arizona, California, Colorado, Connecticut, Florida, Georgia, Idaho, Illinois, Indiana, Iowa, Kansas, Kentucky, Louisiana, Maine, Maryland, Michigan, Minnesota, Mississippi, Missouri, Montana, Nevada, New Hampshire, New Mexico, New York, North Carolina, North Dakota, Ohio, Oklahoma, Oregon, Pennsylvania, Rhode Island, South Carolina, South Dakota, Tennessee, Texas, Utah, Vermont, Virginia, Washington, West Virginia, Wisconsin and Wyoming
To View a map of member States, click here.
Notice of Applicability and Due Process Letter
To View the Due Process Letter, click here