The Discharge Of Waste
All boats, including houseboats and floating cabins, equipped with a marine toilet must have a waste-water holding system to prevent the discharge of waste products into surrounding waters.
A marine toilet is considered to be any equipment for installation onboard a boat which is designed to receive, retain, treat or discharge sewage and any process to treat such sewage. A "porta-pottie" is not considered to be a marine toilet. This figure shows a typical marine sanitation device: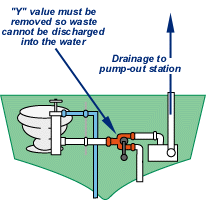 It is illegal for a boat to pump out sewage from a waste-water holding system or from a portable toilet or marine sanitation device into surrounding waters, except into an approved pump-out facility or into a sewer system located on dry land.
All boats equipped with a marine toilet must be registered with the Georgia Department of Natural Resources. You will be issued a Marine Toilet Certificate decal which must be affixed to the hull adjacent to the boats registration number. The one-time certification fee is $5.00. No renewal of the certificate is required and it is transferable to any subsequent owner of the boat.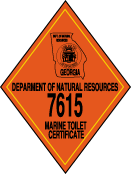 Boats equipped with a marine toilet:
Prohibited on the following lakes: Lake Burton, Bull Sluice Lake, Goat Rock Lake, Lake Harding, Lake Jackson, North Highlands Lake, Lake Oconee, Lake Oconee, Lake Rabun, Seed Lake, Tallulah Falls Lake, Tugalo Lake, and Yonah Lake.
If operated on Lakes Allatoona, Blackshear, Blue Ridge, Clarks Hill, Hartwell, Russell, Seminole, Sinclair, Sidney Lanier, Walter F. George Reservoir, or West Point, must have the marine toilet equipped with a holding tank that is built so that it can only be emptied by being pumped out. The "Y" valve must be removed to prevent discharge
You must maintain a record, going back at least one year, of the name and location of the pump-out facilities you use to empty your holding system and the dates of such use
The Discharge Of Oil And Other Hazardous Substances
It is illegal to discharge oil or hazardous substances. You are not allowed to dump oil into the bilge of the boat without means for proper disposal. You must discharge oil waste to a reception facility. On recreational boats, a bucket or bailer is adequate.
If your boat is 26 feet or longer you must display a 5 x 8 inch placard near the bilge pump switch stating the Federal Water Pollution Control Acts law.
If your boat discharges oil or hazardous substances in the water immediately call the U. S. Coast Guard at 1-800-424-8802.  Call the Georgia Environmental Protection Division at 1-800-241-4113 within 24 hrs. of the discharge.